Combat Chaos is a new set of rules for Monsuno.  Not much is known about them, except they are promoted as an easier rule set for the game.
These are the rules that we can assume from the episode Combat:
The games are best three out of five (or best two out of three if you want a faster game) matches where you can only use one Monsuno, along with the matching Monsuno card. You will need a combat arena and a
Combat Disc
.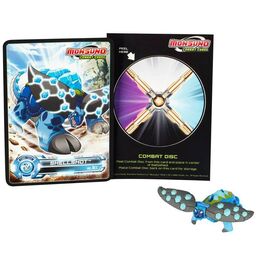 This decal will give a bonus depending on where your Monsuno figure lands after its' core comes into contact with the opposing core:
White: -10, Blue: +/- 0, Black: +50, Purple: +100 (the bonuses should rotate every round.).
Add this to your Monsuno's Combat Icon (located somewhere on it's figure).
After this step, it is unknown if your card will have a set of Strikes that your character can do, if you take turns doing so, or what the victory conditions are. We can assume that you win when the opponent's Monsuno's power drops to zero after using a series of Strikes.
Figure List
Series 0
Series 1