Combat Chaos is a new set of rules for Monsuno.  Not much is known about them, except they are promoted as an easier rule set for the game.
These are the rules that we can assume from the episode Combat:
The games are best three out of five (or best two out of three if you want a faster game) matches where you use three Monsuno, along with the matching Monsuno cards. You will need a combat arena and a
Combat Disc
.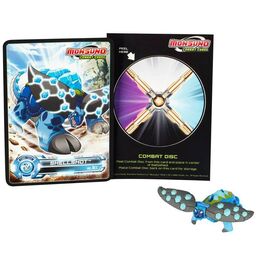 This decal will give a bonus depending on where your Monsuno figure lands after its' core comes into contact with the opposing core. The bonuses are located on the back of your Monsuno card. Add this to your Monsuno's "power level", located somewhere on the figure.
Also, on your Monsuno card, you will see that one of the bonuses have a green circle somewhere near it. This circle indicates that you can use your Monsuno's special ability, once for that battle. These abilities have various effects, but manly add power.
After all bonuses have been given, the player with the higher power wins.
Figure ListEdit