Cores are devices used to spin Monsuno into battle in the anime and real life. Beginning in Monsuno: World Master, there are three different Core types: Core-Tech, S.T.O.R.M. and Eklipse. In Monsuno: Combat Chaos, two new types are introduced, the Forge Resistance and Five Arms.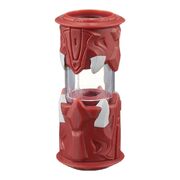 Technology
In the anime, Cores are devices made by Jeredy Suno to turn the Monsuno Essence into a living creature. It does this by combining elements and animal DNA allowing the Monsuno Essence to hyper-evolve into a living creature. Once the refined Monsuno Essence is loaded into a Core, you can spin the Core triggering the hyper-evolution. But once hyper-evolved Monsuno is out of its Core, it can only survive for about 8 minutes before it unspins.
Types of Cores
Colors: Blue and White
Colors: Red and Maroon
Colors: Black and Yellow
Colors: Various
Colors: Orange and Grey
Colors: Green
Colours: Red, Orange and Purple
Colours: Purple, Green, Grey and Black
Gallery
Game
Show
Community content is available under
CC-BY-SA
unless otherwise noted.