It hurtled through space eons before man existed...
It burned through the planet's atmosphere and crashed into four corners of the world, bringing chaos, destruction and the extinction of the dinosaurs… And as suddenly as it arrived...it vanished.
Now it's back!
The rise of Monsuno will spell the ultimate destruction of our planet – or launch the courageous adventure of mankind's newest hero, the unpredictable teenager, Chase Suno. Read More...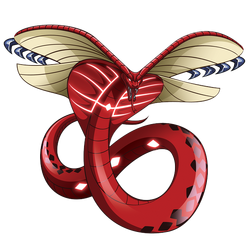 Poisonwing (Japanese: Wingviper (ウィングバイパー, Wingubaipā)) is an Eklipse Monsuno. Its Controller is Medea.
Poisonwing debuted in Wicked, where Medea used it in her battle against Chase Suno. During the battle, Poisonwing gained assistance in the form of the other three Darkspin Monsuno, but Chase and Lock escaped before the battle could continue. It later fought against Lock once again, but the battle ended in a loss for Medea and Poisonwing. Read More


<twitteruser username=MonsunoWiki limit=3 />

Blogs
Abce2
•
So, due to some issues that have come up, I have decided to promote the new most active users to admins. However, I am also promoting the old admin, Nexus, to cratship.
Now, you two, I'm expecting you…
See more >
Member of Fandom: Toys and Games

Wikia: Toys and Games (TaG) is a family of open-content encyclopedias based on toy/game franchises, vowing to help each-other, wherever help is needed, and create a family of unified wikis.