Stock Clips are a product which you can clip your Monsuno to. It comes in Core-Tech and S.T.O.R.M. colors, and possibly Eklipse colors being released in later Waves. The Monsuno Stock Clip holds two Monsuno Cores and ten to fifteen Monsuno TCG Cards. The Stock Clip can be attached to the Battle Bandolier.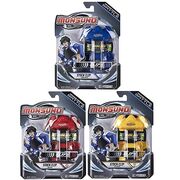 Information
Be Monsuno battle-ready at all times! Take Monsuno Cores, Action Figures and Cards (each sold separately) on-the-go with the high-tech animation-inspired Stock Clip.
Monsuno Carrying Clip with storage for Cores, Figures and Collector Game Cards! (each sold separately).
Get ready for battle!
Show
Stock Clips debuted in Courage, where Chase Suno found them along with empty Cores after Team Core-Tech hijacked one of the S.T.O.R.M. H-Trams.
Gallery
Game
Show
Community content is available under
CC-BY-SA
unless otherwise noted.