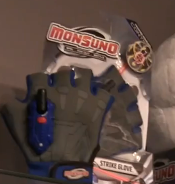 The Strike Glove is a product that features a glove with a laser on it.
Information
Maximize your aim with the Monsuno Strike Glove! Aim the targeting light at an opposing Core and then launch your Core with increased accuracy!
• Monsuno Strike Glove helps your aim and control to gain the upper hand in battle!
• Aim and Strike!
Show
The Strike Glove debuted in Clash, where it was used by a S.T.O.R.M. Elite and has been used in all of the Elites' appearances.
In Lost, Dax gave it to Chase Suno to help him pinpoint the location of his launch. Chase then used the Strike Glove in conjunction with his Strike Launcher to launch Nitestone at a rock several feet away.
In Remembrance, Jeredy Suno tossed a Strike Glove to Chase, who used it in conjunction with his Strike Launcher to launch Lock straight at Toxiclaw.
In Lynchpin, Six used his own Strike Glove to steal Lock's Core from Chase after his loss to the latter.
Gallery
Game
Show
Others
Community content is available under
CC-BY-SA
unless otherwise noted.