The Wild Core Bomb are a series of devices in Monsuno: Combat Chaos. These devices were created by S.T.O.R.M. while Jeredy Suno and Core-Tech were under their service. The bombs were later stolen by the Punk Monks from Forge.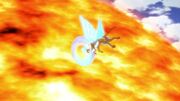 Show
In Flash, a Wild Core Bomb was detonated in an abandoned town, which destroyed the town and killed Quickforce.
In Bang, five Wild Core Bombs were strapped to a rocket by the Punk Monks, and were supposed to be launched to Westward City. However, Chase Suno boarded the rocket and jettisoned them into space, where the bombs exploded from within the rocket, never reaching its destination.
Gallery
Show
Others
Community content is available under
CC-BY-SA
unless otherwise noted.